There exist different alternatives to give your WordPress website a mobile layout:
Responsive themes: these are themes that adapt automatically to different screen resolutions and layouts (Luca Dioli wrote a very interesting article about Responsive Web Design).
Mobile only themes: these are separate themes that are displayed only on mobile devices, which need additional plugins, called theme switchers, to detect which device is viewing the site.
Mobile toolkits: these are complete kits including a theme switcher, a mobile theme, additional widgets and even a mobile version of the administration panel.
Mobile plugins: these are plugins that add mobile features to your WordPress site
You can find a description of interesting mobile themes, toolkits and plugins on Tripwire Magazine.
I opted for WPtouch, a mobile plugin transforming any WordPress website in a mobile application. What is interesting about WPtouch, besides the fact that you install it and it already works perfectly, is that it simulates the layout of a mobile application, and therefore allows for an easy use by the mobile visitors.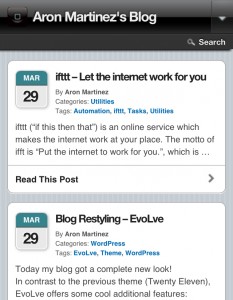 Even if WPtouch works "out of the box", you still have lots of customization options in the settings page: you can view a custom homepage, filter by categories and tags that you want to show, customize the layout of the blog posts displayed, enable/disable zooming on the mobile devices and edit lots of other options. You can even configure push notifications through Prowl and add advertising.
If all this should still not be enough for your needs, there is also a Pro version, offering even more options.
Do you have a mobile version of your WordPress website? I would be curious to discover which solution you have chosen to make your website mobile-friendly, and why.