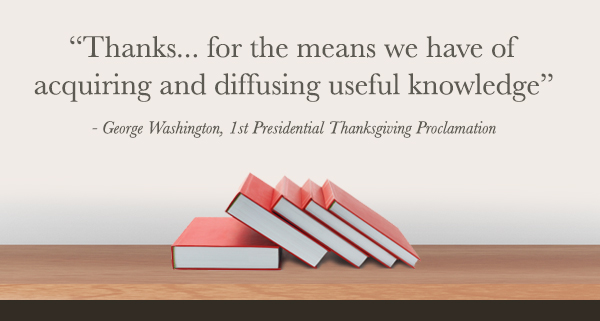 Good news: Pack released a new, very interesting offer for Thanksgiving, which I wanted to share with the bookworms among you.
'Thanks…for the means we have of acquiring and diffusing useful knowledge.' George Washington said this as part of the very first Thanksgiving presidential proclamation back in 1789 – and today in 2013, Packt recognizes its mission to IT professionals in those words. So to celebrate this Thanksgiving, from November 28th the publisher will be letting customers create their own offers across a wide range of technology areas.
These offers will include up to 68% off carefully selected bundles of eBooks, savings of over $100 on a set of video courses, as well as deep discounts on Packt's latest and bestselling titles – covering the latest in Web Development, Big Data, Games Development, and much more.
The whole range of offers will be available to explore at www.packtpub.com until December 6th.
Just to sum it up: To celebrate Thanksgiving, Packt is currently offering up to 68% off carefully selected bundles of eBooks and deep discounts on their newest and bestselling titles, and all this till December 6th. Check out the following link for all details about the offer: http://bit.ly/IuczyD.