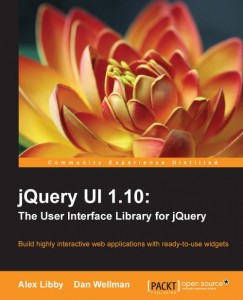 It is time to present you a new interesting book I discovered recently (as usually thanks to Packt Publishing): "jQuery UI 1.10: The User Interface Library for jQuery", by Alex Libby and Dan Wellman, published by Packt Publishing.
If you are interested, you can check out more details about the book on the Packt website.
The book
The book gives a very detailed introduction to the jQuery UI library, as well as an in-depth overview of all its features. It is very well structured, well written and quite easy to read (despite its length of 480 pages). For each widget and interaction helper of jQuery UI 1.10, there is a very detailed chapter that explains all steps needed to use it and adapt it to your needs: setup, default use, styling options, configuration possibilities, events, methods and interactions. Let us now look in more detail at each chapter.
Chapter 1: Introducing jQuery UI
The introduction of the book is very complete and covers everything needed to start using jQuery UI 1.10: how to download and use the library, an analysis of its structure, its styling possibilities, browser support, an overview of the APIs of the library's components and the events and callbacks that these APIs offer.
Chapter 2: The CSS Framework and Other Utilities
The second chapter presents the CSS framework behind jQuery UI 1.10. This CSS framework allows you to integrate themes through Themeroller as well as creating your own custom themes for each widget. It also looks at the position utility in detail, with all its options and features.
Chapter 3: Using the Tabs Widget
The third chapter looks at tabs, and more in detail at the following aspects:
Their default implementation
Styling tabs
Their available options
Possible transition effects
Their available methods
Their available events
Using AJAX tabs
Chapter 4: The Accordion Widget
The fourth chapter looks at accordions, explaining:
Their structure
Their default implementation
How to style them
Their available options
Their available methods
Available animations
Their available events
Chapter 5: The Dialog
Chapter 5 looks at dialogs, showing:
How to create basic dialogs
Their available options
Modal dialogs
Available animations
Using buttons inside dialogs
Their available callbacks
Chapter 6: The Slider and Progressbar Widgets
Chapter six presents the slider and progressbar widgets, looking at:
Sliders:

How to create default sliders
Styling them
Available options
Vertical sliders
Configuring minimum, maximum, and default values
Using different handles and ranges
Their available callbacks
Their available methods

Progressbars:

Their default implementation
Their available options
Their event API
Their available methods
Chapter 7: The Datepicker Widget
Chapter seven looks at the datepicker widget, by explaining:
How to create default datepickers
Their available options
Using trigger buttons
Their available animations
Displaying datepickers spanning multiple months
Changing the date format
Localization
Selecting data-ranges
Their available methods
Using AJAX datepickers
Chapter 8: The Button and Autocomplete Widgets
Chapter eight explains how buttons and autocomplete fields work, by looking at:
Buttons:

Creating default buttons
Their available options
Displaying icons inside buttons
Their available events
Creating button sets
their available methods

Autocomplete fields:

Reading data from local data sources
Their available options
Their available events
Their available methods
Reading data from remote data sources
Displaying HTML in autocomplete fields
Chapter 9: Creating Menus
Chapter nine explains how the menu widget works, by looking at:
Creating basic menus and submenus
Their available options
How to style menus
Adding icons and dividers
Their available methods
Their available options
Their availalable events
Creating more advanced menus
How to enhance a select menu
Chapter 10: Working with Tooltips
Chapter ten looks at how to use tooltips, by analyzing in turn:
How to create default tooltips
How to style them
Their available options
Their available methods
How to display tooltips
How to display custom HTML inside tooltips
Their available effects
Using AJAX tooltips
Chapter 11: Drag and Drop
Chapter eleven explains how to use draggable and droppable elements, looking at:
How to make elements draggable
Available options for draggable elements
How to make elements return to their start position
How to use event callbacks
Drag helpers
Containing draggables
How to control draggability
How to use drop targets
How to define accepted draggables
How to define drop tolerance
The interactions between draggable and droppable elements
Chapter 12: The Resizable Component
Chapter twelve looks at resizables, by explaining:
How to create default resizables
Their available options
How to add resize handles
Defining minimum and maximum size
How to use resize helpers and ghosts
Their available animations
Their available events
Getting the final size of a resizable
Chapter 13: Selecting and Sorting with jQuery UI
Chapter thirteen explains how to use selectable and sortable elements, by looking at:
Selectables:

How to create default selectable elements
Available states of selectable elements and their respective classes
How to filter selectable elements
Their available callbacks
Their available methods

Sortables:

How to create default sortable elements
Their available properties
Their available handlers and methods
Sending a sorted result to the server
Chapter 14: UI Effects
Chapter fourteen looks at the UI effects availbale in jQuery UI, namely:
Highlight
Bounce
Shake
Transfer
Scale
Explode
Puff
Pulsate
Slide
Blind
Clip
Fold
More
In addition to the 14 chapters contained in the ebook, there should be a 15th chapter about The Widget Factory, but unfortunately the link to download this additional chapter does not work. In addition there is a very useful appendix listing different resources for those who would need help or support with jQuery UI.
Code examples
The code examples provided with the book are very useful and will help you to instantly understand and implement the code in your own page. The code files are well structured, clean and very well explained in the corresponding chapters of the book.
Conclusion
The book is very detailed and complete. It contains very detailed descritpions and explanations, toghether with code examples, for all features of jQuery UI 1.10. I can recommend this book to everyone that is starting to use jQuery UI, but also for those who already use jQuery UI regularly, it contains lots of useful information and the code examples can come very handy as a base for new projects. Now, it is your turn, as usual: Are you thinking about using jQuery UI for future projects, or maybe already using it actively? Do you have other useful resources or books to recommend? Please feel free to post any suggestion in the comments below.